Image
Get High Quality Pest Control in Seabrook
Saturday Service Available
Technically Advanced and Knowledgeable
Pest Control in Seabrook, TX
Are pests invading your Seabrook home? Don't let them take over! Our residential pest control experts are here to help. With our general pest control services, we'll get rid of those common household pests, including:
Ants
Cockroaches
Crickets
Earwigs
Silverfish
Spiders
Centipedes
Rodents
And more!
Choose our recurring services for long-term protection and peace of mind. We offer flexible plans starting as low as $35/month (plus tax).
Image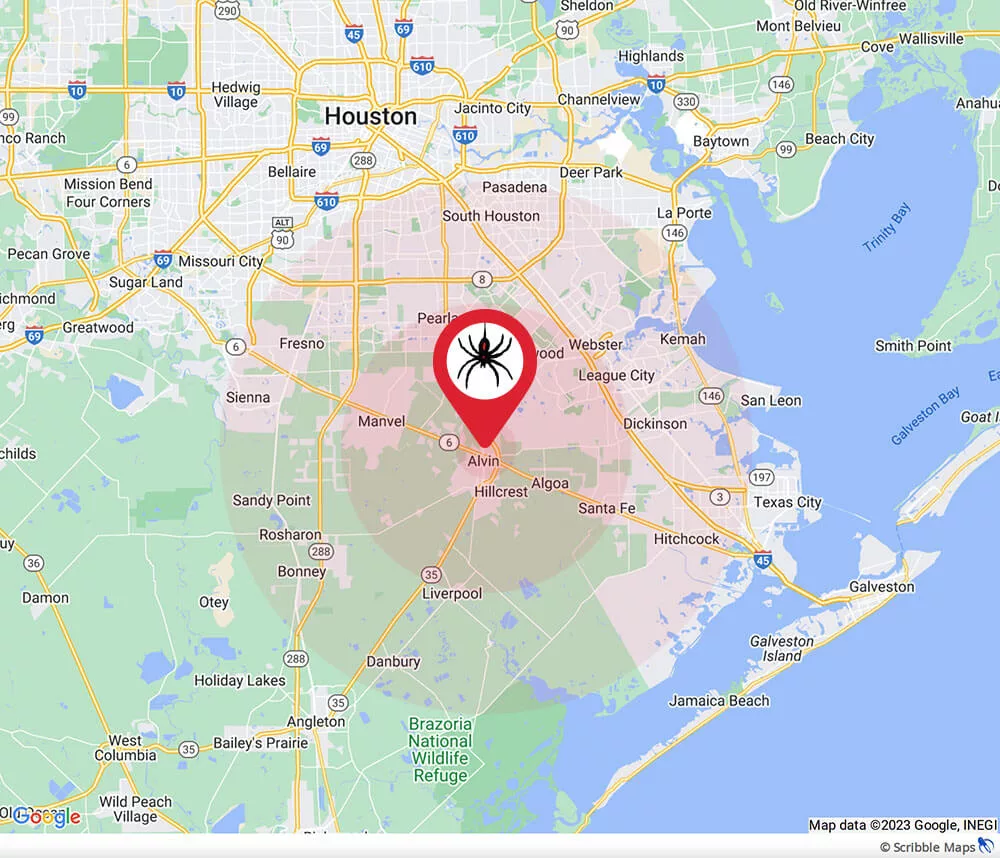 Our Professional Exterminators Are Here To Help
Attention Seabrook residents! Are you tired of dealing with common household pests? Don't let ants, cockroaches, crickets, earwigs, silverfish, spiders, centipedes, rodents, and more ruin your peace of mind. With Alvin Pest Control's general pest control services, you can trust us to get rid of any unwanted guests in your home.
Why Choose Alvin Pest Control?
Our experienced exterminators have been providing residential pest control in Seabrook since 1975
We offer custom treatments to address your family's unique needs
Our convenient Saturday services make getting rid of pests easy
Our Out of the Park Protection Plan is a flexible and affordable option for recurring pest control services
Trust us to take care of your home and family. Don't let pests take over!
Termite Control in Seabrook, TX
Protect your Seabrook home from the costly damage caused by termites with our family-and-pet-friendly termite control service. Our over 40 years of experience means you can trust us, and our comprehensive termite inspections will ensure we tailor a personalized treatment plan for your home.
Here's what you can expect when you hire us as your termite exterminator in Seabrook:
We use the Sentricon System, a science-based and safe option that eliminates the entire termite colony.
Our ongoing monitoring and prevention will keep your home protected after the initial colony is gone.
Our Sentricon bait stations are discrete and attract termites 10 times more than wood, ensuring effective treatment.
Our termite control service is designed to be long-lasting to prevent future infestations in Seabrook's humid climate.
Don't let termites eat away at your home's value and potentially harm your family's health. Call us today, and we'll give you peace of mind with our reliable and effective termite control service.
Rodent Exterminator in Seabrook, TX
Are you tired of those pesky rats and mice invading your Seabrook home? Look no further than our top-of-the-line rodent control service.
Our recurring or one-time service options not only get rid of your current rodent problem, but we also provide ongoing measures to prevent any future infestations. Say goodbye to those pesky rats and mice for good with our trusted rodent removal services.
Our rodent control service includes the following:
Free rodent inspection
Comprehensive inspection report and written proposals for all treatment options
Recurring or one-time service options
Ongoing measures to prevent future infestations
Trusted rodent removal services.
Wildlife Removal in Seabrook, TX
Looking for reliable wildlife removal in Seabrook? Look no further than Alvin Pest Control for high-quality wildlife removal services in Seabrook! Our expert technicians are trained in humane trapping techniques and can handle a variety of wildlife including raccoons, opossums, squirrels, skunks, bats, and more.
Our wildlife removal services include the following: 
Our expert technicians will carefully inspect your property and provide a written estimate and inspection report
Prevent ongoing issues with humane trapping and animal removal
Choose Alvin Pest Control for reliable animal removal and critter control in Seabrook. Say goodbye to your wildlife problems for good with our bat removal and other services. Contact us today to get rid of your critter problem safely and effectively.