Image
Eliminate Pests with the Best!
Technically Advanced and Knowledgeable
Saturday Service Available
Pest Control in Dickinson, TX
Welcome to our local pest control services in Dickinson, Texas. With over 48 years of experience, we are the trusted exterminators in the area. We can help eliminate the following pests:
Ants
Bed Bugs
Centipedes
Cockroaches
Crickets
Earwigs
Fleas
Mosquitoes
Rodents
Silverfish
Spiders
Termites
Ticks
Wasps
Wildlife
And more!
Say goodbye to pests and hello to peace of mind. Experience the difference of our family-friendly treatments and Saturday service. Contact us today for a free quote.
Image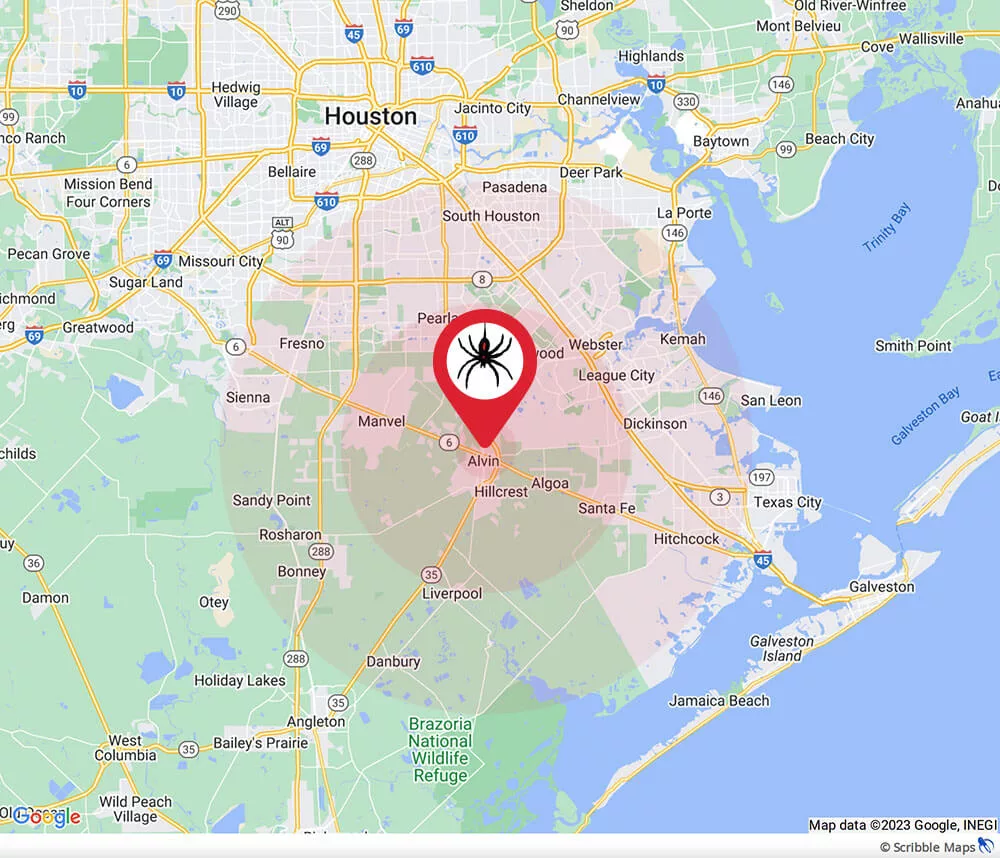 Our Local Exterminators Are Ready To Help
Are pests wreaking havoc in your Dickinson home? Don't let them take over your space and put your family and pets at risk. Trust the experts at Alvin Pest Control for reliable residential pest control in Dickinson. With over 45 years of experience, we know exactly how to get rid of those pesky intruders and keep them from coming back.
Here's why you should choose us:
Comprehensive Pest Treatment: From ants to cockroaches, crickets to silverfish, we specialize in eliminating common household pests. Our exterminators are trained to handle all types of infestations, so you can trust us to take care of your pest problem.
Customized Solutions: We understand that every home is unique, which is why we offer personalized pest control plans. Our team will inspect your property, identify the pests, and tailor a treatment plan to address your specific needs. 
Recurring Services: Once we've eliminated the pests, we don't stop there. Our recurring services ensure that your home stays protected year-round. We'll create a protective barrier to prevent future infestations and schedule regular visits to keep your space pest-free.
Family and Pet-Friendly: Your family's safety is our top priority. That's why we use high-quality, eco-friendly products that are safe for your loved ones and pets. 
Exceptional Customer Service: We pride ourselves on delivering exceptional customer service. Our team is dedicated to providing a great experience from start to finish. Whether you have questions, concerns, or need advice, we're here to help. We'll always go above and beyond to ensure your satisfaction.
Termite Exterminator in Dickinson, TX
At Alvin Pest Control, we understand that Texans are no strangers to hot and humid weather, which unfortunately means that termites are no strangers either. These pesky insects thrive in that type of environment, making them a year-round risk for homeowners in Dickinson, TX. But fear not, because our termite control service is here to protect your home and give you peace of mind.
When you choose us as your termite control experts in Dickinson, you can expect:
Thorough Termite Inspections: Our experienced technicians will carefully inspect your home to identify any signs of termite activity. This allows us to create a personalized treatment plan that addresses your home's current condition.
Family-and-Pet-Friendly Termite Treatments: We prioritize the safety of your loved ones, including furry friends. Our treatments are designed to effectively eliminate termites without posing any harm to your family.
Sentricon System: We utilize the Sentricon System, a science-based solution that targets and eliminates the entire termite colony. This discreet method is highly effective and prevents future infestations.
Ongoing Termite Control: We believe in taking a proactive approach to termite prevention. Our comprehensive termite inspections and monitoring services ensure that your home remains termite-free in the long run.
Rodent Exterminator in Dickinson, TX
With our proven techniques and expertise, we guarantee effective and efficient rodent removal. Say goodbye to those unwanted guests and hello to a rodent-free environment. 
Our rodent control program includes the following:
Free inspection to identify the problem 
Written inspection report with treatment options
Customized treatment options
We're committed to providing the best rodent control in Dickinson. Our technicians are highly trained and experienced in dealing with all types of rodent infestations. We'll take the necessary steps to rid your home of these pests, and make sure that they don't come back.
Wildlife Removal in Dickinson, TX
Experience the beauty of Dickinson, Texas, but don't let wildlife intrude on your peace. Our wildlife control service specializes in humane trapping and removal of raccoons, opossums, squirrels, skunks, bats, and more. Get rid of those critters and prevent ongoing animal removal headaches.
Our wildlife control program includes the following:
Inspection and Identification: Our team of experts will inspect your property to identify the type of wildlife you're dealing with. This helps us create a customized plan that targets the pests and prevents future infestations.
Humane Trapping: Our technicians will use humane trapping methods to capture and relocate the animals safely. We also take steps to prevent them from gaining entry in the future.
Sealing and Removal of Debris: We'll take the necessary steps to seal any entry points on your property and remove any debris or nesting materials left behind by the animals. This ensures that they won't be able to come back.
Contact Alvin Pest Control today for your pest control needs in Dickinson, TX. Our experienced team is here to help you protect your home.