Image
Providing the Best Pest Control in Pearland Since 1975
Technically Advanced and Knowledgeable
Saturday Service Available
Pest Control in Pearland
DIY treatments might seem like an easy way to get rid of pests, but they can actually make things even worse! Instead of spending your time and money on ineffective options, trust the experts at Alvin Pest Control. We've been in business since 1975, so we know how to safely and quickly reclaim your home from pests.
Our exterminators in Pearland will protect your home from:
Ants
Cockroaches
Crickets
Earwigs
Silverfish
Spiders
Centipedes
Rodents
And more!
 
Image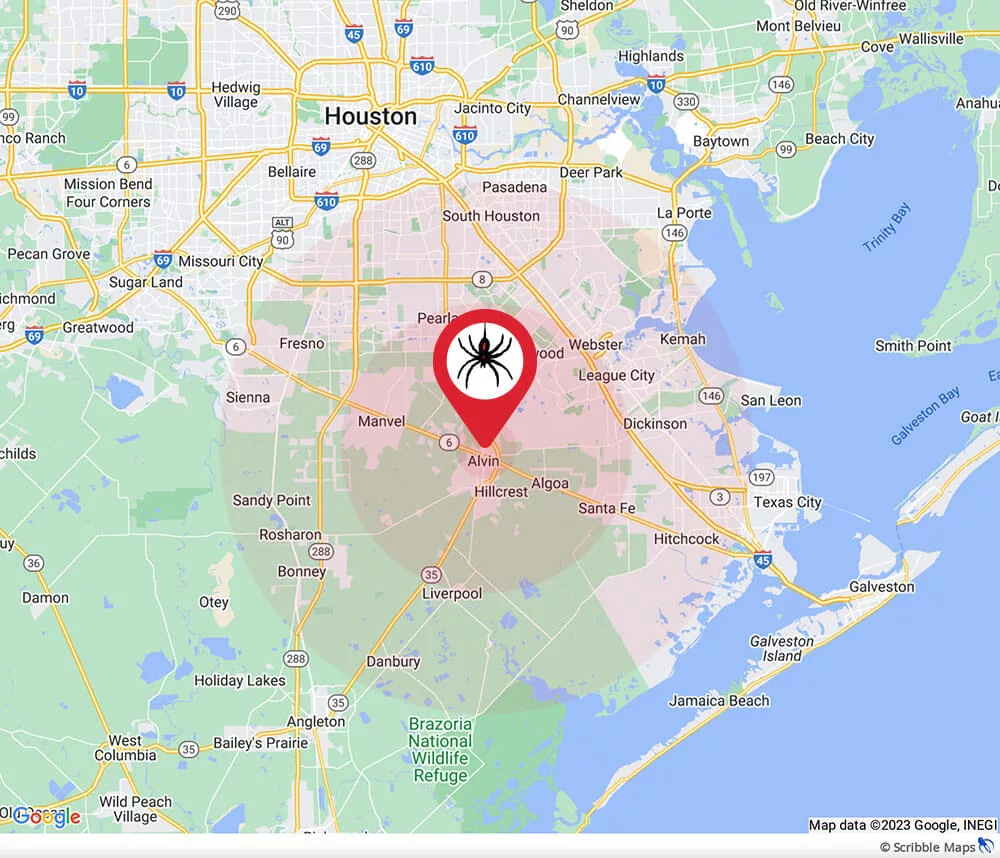 Trust the Local Experts
Just because you don't see any obvious holes in your home doesn't mean pests won't find a way inside! They can use tiny gaps like cracks in the foundation or unsealed utility lines to sneak inside. Luckily, it's just as easy to get rid of pests when you work with the experts at Alvin! Our exterminators complete ongoing training that prepares them for any infestation, no matter how overwhelming it seems.
When you partner with us for pest control in Pearland, we will:
Search your home for damage, entry points, and other signs of an infestation.
Design a custom treatment plan based on our findings and your concerns.
Treat the interior and exterior of your home to ensure we get every nook and cranny.
Create a protective bubble around your home to stop future infestations.
Recurring treatments to meet your property's seasonal needs.
Flexible Appointments for Hassle-Free Relief 
The only thing more annoying than having a pest infestation is finding a treatment time that works for you. Instead of making you change your schedule to accommodate us, we offer flexible appointments that work for you. That includes Saturday appointments! That's just one way we go above and beyond for all our customers!
Termite Control in Pearland
Termites are a homeowner's worst nightmare! These pests destroy your home's structural supports, making it unsafe and costing you thousands of dollars in damages. Most homeowners insurance doesn't even cover termite damage, so you'll have to pay out-of-pocket. If you're looking for the best way to protect your home, look no further than our termite exterminators in Pearland! We'll protect both your home and your wallet.
Our termite control in Pearland includes:
A thorough termite inspection to look for signs of damage.
Personalized treatment plans based on your property's specific needs.
Sentricon bait stations to get rid of termites, including the queen.
Peace of mind that comes with 24/7 protection.
Rodent Control in Pearland
We know how stressful it is to find rats or mice in your home, which is why we've made our rodent control in Pearland as hassle-free as possible! We work carefully, use innovative products, and tailor our treatment to your needs. It doesn't get easier than that! Whether rodents are in the attic, behind walls, or somewhere in between, our rat exterminators have the perfect solution for you.
Our rodent exterminators will:
Inspect your home to find rodents, nesting materials, and entry points.
Tailor our treatment plan based on our findings and your family's needs.
Eliminate rodents using products that are both effective and safe.
Recurring treatments to prevent rodents from coming back.