Image
Say Goodbye to Pests in League City with Alvin Pest Control's Best Exterminators!
Saturday Service Available
Technically Advanced and Knowledgeable
Pest Control in League City, TX
Welcome to our family-owned local pest control services in League City! With 48 years of experience, we know what it takes to keep your home, office, or restaurant pest-free.
Our knowledgeable exterminators specialize in a variety of pest control services, including:
Residential and Commercial Pest Control
Rodent Control
Termite Treatments
Mosquito and Tick Control
Wildlife Control
As professional exterminators, we specialize in customized treatment plans to get rid of any unwanted guests in your home or commercial space. With years of experience and a track record of excellence, we are the go-to choice for anyone in League City looking for top-notch pest control services.
Plus, we offer Saturday services and free quotes! Don't let pests take over your space. Contact us today to learn more about our effective pest control services.
Image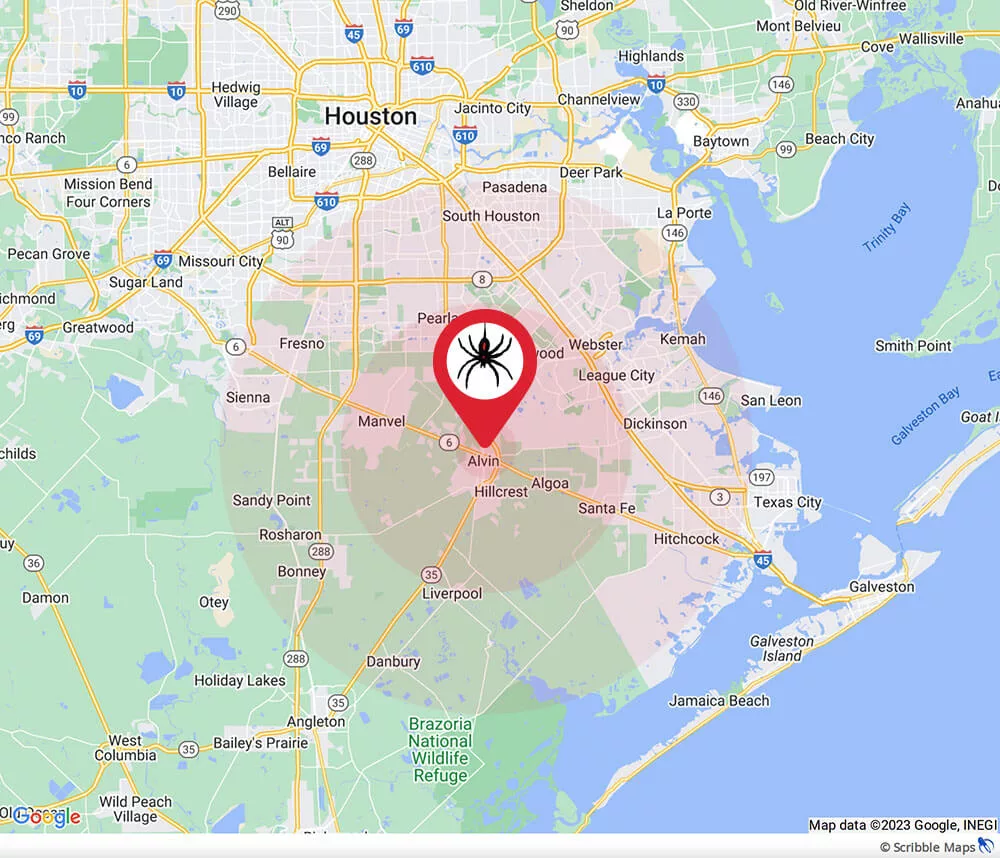 Residential Pest Control in League City, TX
Looking for reliable residential pest control in League City? Look no further than Alvin Pest Control!
Our team of expert exterminators knows how to get rid of common household pests like:
Ants
Cockroaches
Crickets
Earwigs
Silverfish
Spiders
Centipedes
Rodents
And more!
Here's what you can expect when you choose us for general pest control:
Thorough pest inspection to identify all problem areas
A customized treatment plan based on your unique needs
A protective barrier to prevent future infestations
Recurring or one-time services to keep your family and pets safe year-round
With 48 years of experience, we have the expertise and high-quality products to do the job right. 
Termite Exterminator in League City, TX
Are you tired of worrying about termites damaging your home in humid League City, TX? Look no further than our trusted termite exterminator team. We offer family-and-pet-friendly termite treatments that get rid of termites and keep them from coming back.
Our termite control services in League City include the following:
Ongoing termite control to ensure your home stays protected
Comprehensive termite inspections to catch any signs of activity early on
The Sentricon System, a science-based solution that eliminates entire colonies
Monitoring to detect and prevent future infestations
Don't let termites cost you thousands in damages. Our termite control service is safe and effective and uses the latest technology to protect your home. League City's humid climate creates a need for ongoing monitoring, making our service a must-have. Trust us to give your home the protection it deserves.
Rodent Exterminator in League City, TX
Get top-notch rodent control in League City, TX. Our rodent exterminators are here to provide you with a thorough and free inspection of your property to identify existing or potential rodent problems. League City's natural features make it an attractive spot for rats and mice to call home, but with our ongoing rodent control service, we can prevent infestations and keep your home rodent-free.
Our rodent control service includes the following:
A detailed inspection report and written proposal for all treatment options, so you know exactly what you're getting.
Recurring or one-time service to get rid of pesky rats and mice for good.
Follow-up services to ensure your satisfaction.
Mosquito and Tick Exterminator in League City, TX
League City's warm and humid climate, combined with its proximity to water, makes it a prime breeding ground for mosquitoes and ticks. Don't let these pests ruin your outdoor fun or put you at risk for diseases like West Nile virus or Lyme disease.
Our mosquito & tick control in League City includes the following:
Free inspection to assess the extent of your mosquito and tick problem
In2Care system for targeted and effective mosquito prevention
Larvicides in key areas to prevent mosquito breeding and infestation
With our expert mosquito treatment and tick control, you can enjoy your yard without worry. Our In2Care system is a proven solution that we can install after a simple phone call. And if needed, we'll even do an initial spraying to knock down populations.
Wildlife Removal in League City, TX
Don't let critters take over your yard or home! Alvin Pest Control offers expert wildlife removal in League City, Texas. League City's natural features attract wildlife year-round, but our wildlife control service is here to help.
Here's what we can do for you:
Safely remove Raccoons, Opossums, Squirrels, Skunks, Bats, and more
Provide a written estimate and inspection report upon arrival
Use humane trapping techniques to prevent harm to the animals
Ongoing critter control to keep your property critter-free
Trust Alvin Pest Control to handle all your bat removal and critter control needs. Call us today for an on-site estimate and experience the peace of mind that comes with a critter-free home.