Image
Experience the Best Pest Control Services in Manvel
Technically Advanced and Knowledgeable
Saturday Service Available
Pest Control in Manvel
Are pests wreaking havoc in your Manvel home? Don't let them take over your sanctuary! Trust the residential pest control experts at Alvin Pest Control to get rid of those pesky invaders and keep your family and pets safe. With over 45 years of experience, our team knows exactly how to tackle common household pests with effective and customized solutions.
We provide pest control for the following insects:
Ants
Cockroaches
Crickets
Earwigs
Silverfish
Spiders
Centipedes
Rodents
And more!
At Alvin Pest Control, we understand the importance of family and pets. That's why our recurring pest control services are designed to keep your home protected year-round. With our thorough pest inspections and custom treatments, we'll create a targeted plan to tackle your specific pest problems. Our Out of the Park Protection Plan offers flexible coverage options starting as low as $35 per month (plus tax). 
Image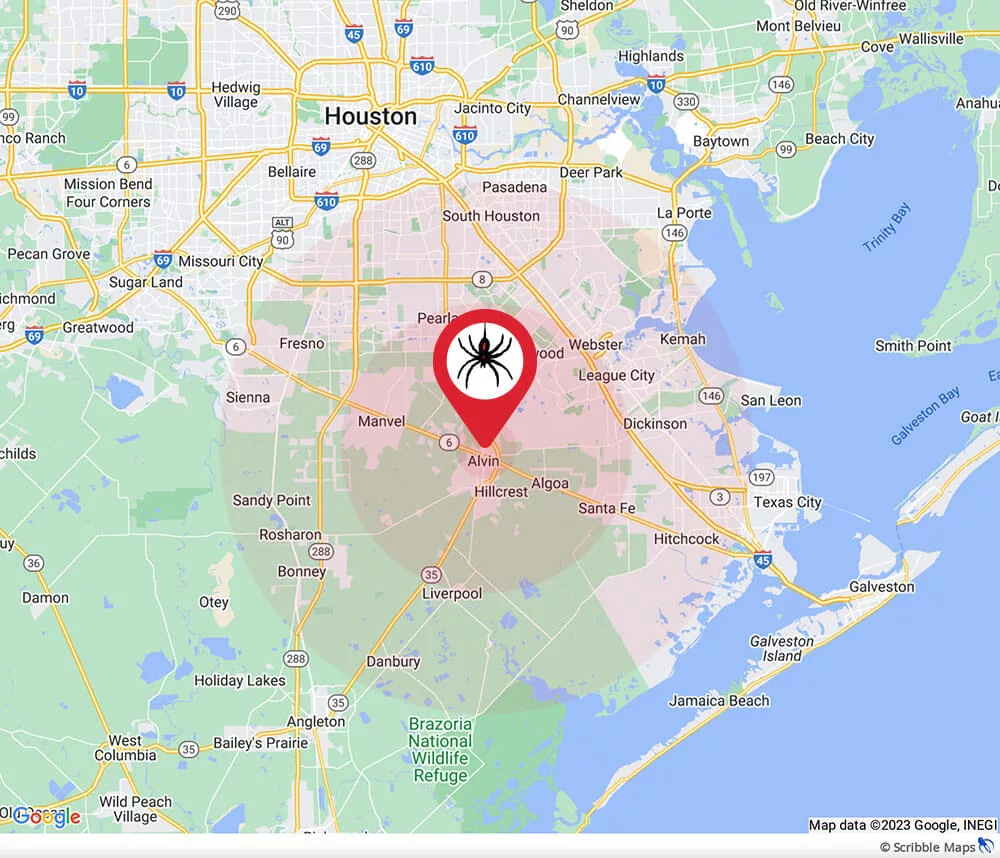 Local Exterminators Are Here To Help
Don't let pests invade your home and disrupt your family's peace and safety. At Alvin Pest Control, we specialize in residential pest control in Manvel, offering effective solutions to eliminate those pesky intruders.
Why choose us for your pest control needs? 
Professional Expertise: With over 45 years of experience and ongoing training, our team of exterminators knows exactly how to handle common household pests. Trust our expertise to effectively get rid of ants, cockroaches, crickets, earwigs, silverfish, spiders, centipedes, rodents, and more!
Personalized Approach: We understand that every home is unique, which is why we offer custom treatments tailored to your specific needs. Our thorough pest inspection helps us identify the pests and their entry points, allowing us to create a protective barrier around your home and prevent future infestations.
Recurring Services: One-time solutions may only provide temporary relief. That's why we offer recurring services to keep you protected year-round. Our flexible plans starting as low as $35/month (plus tax) ensure that your home remains pest-free and your family stays safe.
Family and Pet-Friendly: Your family's safety is our top priority. We use high-quality products that are safe for your loved ones, including your pets. With our expert exterminators, you can have peace of mind knowing that we prioritize your family's well-being.
Don't let pests take over your home. Trust the experts at Alvin Pest Control to deliver effective residential pest control solutions in Manvel. Contact us today to schedule a pest inspection and take the first step towards a pest-free home.
Termite Control in Manvel
Are termites wreaking havoc on your home in Manvel? Don't worry, we've got you covered! With our family-and-pet-friendly termite treatments, ongoing termite control, and comprehensive termite inspections, you can say goodbye to these pesky invaders.
Here's why you should choose our termite control service:
Sentricon System: Our termite exterminators in Manvel utilize the highly effective Sentricon System to eliminate termites and prevent future infestations. This science-based solution targets the entire colony, ensuring long-lasting protection for your home.
Ongoing Monitoring: We understand that Manvel's humid climate creates the perfect breeding ground for termites. That's why our termite control service includes continuous monitoring to keep your home protected year-round.
Prevention is Key: We don't just get rid of termites, we also focus on preventing further damage to your home. Our experienced technicians will conduct thorough inspections to identify potential vulnerabilities and provide tailored solutions to keep termites at bay.
Over 48 of Experience: Trust our team of experts who have been serving the Manvel area for over 48. With our wealth of knowledge and expertise, we guarantee effective termite control that saves you both time and money.
Say goodbye to termites and enjoy a pest-free home in Manvel. Contact us today to schedule your comprehensive termite inspection and take the first step towards complete termite protection. Don't wait until it's too late, act now to safeguard your home!
Rodent Control in Manvel
Are rodents driving you crazy? We've got you covered! Our expert rodent exterminators in Manvel, Texas are here to help you get rid of those pesky rats and mice.
Why choose our rodent control service?
Free rodent inspection: We come to you and provide a thorough inspection, completely free of charge.
Recurring or one-time service: We offer ongoing rodent control services to prevent future infestations, or a one-time service to tackle the problem right away.
Manage Manvel's rat population: Manvel, Texas is known for its beautiful landscapes and warm weather, but unfortunately, these factors also attract rodents. Our experienced team is familiar with the specific features of Manvel that make it a favorite spot for rats and mice, and we know just how to keep them out of your home.
Don't let rodents ruin your peace of mind. Take control with our top-notch rodent removal services. Schedule your free inspection today and say goodbye to those unwanted guests!
Wildlife Removal in Manvel
We are committed to making a difference in our community by providing exceptional wildlife removal services in Manvel, Texas. Give us a call today to schedule an on-site estimate and experience the power of our knowledge in critter control.
Our wildlife removal in Manvel includes:
Expert inspection and written estimate for your peace of mind
Expert technicians to safely remove raccoons, opossums, squirrels, skunks, bats, and more!
Humane trapping techniques for safe and ethical animal removal
Ongoing wildlife control service to prevent future infestations